---OOC Information---
Habbo Username: ShadowMarie1850
Real life name: Jessyka
Age (Optional): 16
---IC Information---Vital Statistics
Full name: Ivayla Hristina Mlendeva
Meaning of Name: One who watches
Age: 500, but will forever look to be 21
Astrological Sign: Libra
Birthplace: Sofia, Bulgaria
Current Residence: In Mlendeva Manor in Arcana
Occupation: Officially, none. However, she does frequently hold performances in the lounge in the rich side of town.
Species: Temptress Sominium
Nickname: Ivy.
Sex: Female
Birthday: September 27th.
Physical Appearance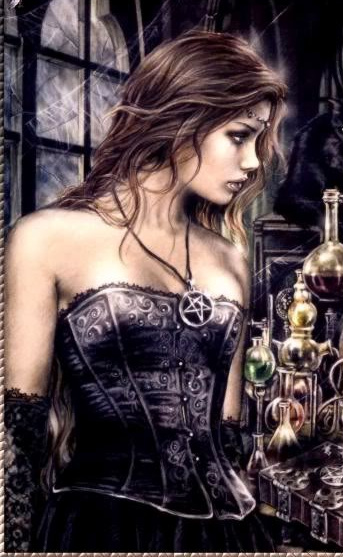 General Description: Incredibly beautiful. Striking, edgy features, and a very sly, mischievous smirk.
Height: 5' 6''
Eyes: Ice blue. They sometimes appear violet when she is needing to feed.
Glasses/Contacts: None
Skin Tone: Very fair, nearing pale.
Scars: A long, straight one down the center of her back.
Type of Dresser: Gothic Victorian. She usually wears a corset, which can make her look relatively provocative to some, but never trampy.
Build/Weight: Thin with curves in the right places.
Hair Color: Chocolate brown.
Hair Style: Very long, down to the middle of her back, and wavy.
Tattoos/Piercings: Her ears and navel are pierced.
Equipped/Weapons: Her father's silver dagger that has poison infused into the blade. An ivory bow and silver arrows.
Other (Wings, ears, etc): Black markings on only her hands that all Sominiums have.
Personality & Such
Disabilities: Schizophrenic. If she doesn't take her medication, she talks to herself and often has hallucinations.
Talents: An incredibly gifted opera singer and composer, though she refuses to preform unless it is only in the company of close friends and/or family. She also plays the violin.
Self-Image: Due to her rich-kid upbringing, she often views herself a knotch above the rest of the people, but usually knows where she stands otherwise.
Allergies: None.
Weakness: The very center of her back is an extreme weakness of hers. Like all sominiums, if the center of her back is touched, the person touching it will be transported into one of her memories (sort of like a flashback) or dreams.
Pets: A cat named Olivia.
Special Abilities/Powers: The ability to see inside the dreams and memories of others. She is able to also erase memories or dreams from others and replace them with others she came up with. She is also umbrakenetic and telepathic.
Popular or Loner: Quite the loner, but is oddly charismatic when it comes to being in front of others. She'd rather observe the actions of others than take part in their conversations.
Bad Habits: Bitting her lower lip when nervous, deep in thought, or shy.
Good Habits: Always hearing both sides of a story before making a judement.
Best Characteristic:Her calmness, which she seems to radiate at times.
Worst Characteristic: When the right buttons are pushed, she can become very over-emotional.
Embarrassed by: Her brother's choice to live among the lower-class.
Overall Personality: Ivayla, while quiet among strangers, is oddly charismatic: she has a natural charm to her that is very inviting and attractive. She has a bad reputation among the lower class due to her family's old money, but is trying to redeem herself of that. She's incredibly calm natured, but if set off, it's very hard to calm her down. She's very opinionated and will never back down when standing up for what she believes is right. She HATES caddy girls, which is why she finds it easier to make friends with men.
Fears: Seeing another violent revolution, the sometimes more than friendly relationships she's had with men in the lower class being discovered, being buried alive, seeing blood (she'll actually pass out if there's enough), seeing Nathanial hurt
Feels Vulnerable When: Being surrounded by people she's never met before. Nathanial is hurt or in danger.
Pet Peeves:Girls who are constantly getting involved with drama
Sexuality: Straight.
Thoughts on love & Relationships: Longs to find a serious relationship sometime in the near future, but will never outwardly admit it.
Background
Mother: Vesselina Mlendeva
Father: Viktor Mleneva
Family Finances: Old Money. Incredibly rich.
Birth Order & Siblings: Oldest. Has a little brother, Avin. Had three other sisters, Adelina, Katzyna, and Niella, but they all died of disease before Ivayla was born.
Ethnic Heritage: 100% Bulgarian
Accent: Bulgarian
History:
Born in Sofia to two of the most well known Sominiums in the world, Ivayla had an interesting childhood. She was
the only daughter of her parents to live past the age of 5, as her three other sisters all died of disease. Ivayla was adored by both of her parents who would give her anything and everything she ever wanted, no matter how expensive or rare. Avin, her little brother, was born when she was six. Just a year later, her parents discovered how talented she was with music and sent her off to a renowned music academy in London.
It was there where she was classically trained in singing and violin. Along with music, she was taught Latin, Greek, English, and Italian. She attended the school until she was fifteen, when her parents had decided they had enough of the problems all the humans had been giving them. They packed their bags and moved far away from Sofia, and settled in a very large, unsettled area somewhere else in Europe. Several family friends had moved with them and helped to build the extremely large manor that is now in the center of Arcana. Viktor and his brother, Vladimir, officially founded the city together, but the credit is usually only given to Viktor as Vlad died shortly after. Viktor invited any and all mythical beings to settle in this new city, and many did. When the city's population had just reached 10,000 people, Viktor and his wife were assassinated on their way to the city's Capitol.
Afraid that the children might also be in danger, Ivayla's aunt locked Avin & Ivayla away in the manor for another two hundred years. During that time, Ivayla discovered her strong powers and trained herself to use them in the best ways possible. When her aunt died and it was deemed safe for her to leave the manor, Ivayla was faced with a somewhat failed revolution against the tyrant that had taken over when her father was killed. Many of the lower class citizens of Arcana turned to her and her brother for help, but the two could not provide any. Avin made the choice to leave the manor and live among the lower class people.
Religion: Doesn't specifically believe in God, but believes there is something bigger out there.
Favorites
Color: Midnight blue.
Type of Music: Classical.
Song/Theme song: Whoever Brings The Night - Nightwish
Place in the RPG: The Capitol, her room.
Animal: Cats.
Quote: "They say those who live in glass houses should not throw stones. You, my dear, live in a house of cards and are throwing boulders."
Author And/Or Book: Billy S. :3
Last edited by Jessyka on Sun Mar 27, 2011 2:50 pm; edited 4 times in total
Admin




Posts

: 27


Join date

: 2011-03-05


Age

: 24


Location

: Boston, MA



God, she's so hot.
If only we weren't cousins ICly!
;D

Admin




Posts

: 11


Join date

: 2011-03-05


Location

: TexASS



Admin




Posts

: 11


Join date

: 2011-03-05


Location

: TexASS



Admin




Posts

: 29


Join date

: 2011-03-06


Age

: 25


Location

: Paisley , Scotland



Rubia is secretly an evil genius, that is all I can tell you.
Ivayla's very sick

GET YOUR ASS ONLINE
Admin




Posts

: 27


Join date

: 2011-03-05


Age

: 24


Location

: Boston, MA



I am trying !
Shall be on lots this weekend because I can't be bothered going out.
Admin




Posts

: 29


Join date

: 2011-03-06


Age

: 25


Location

: Paisley , Scotland




---
Permissions in this forum:
You
cannot
reply to topics in this forum